Connect to Facebook to claim 4-Win IP Boost!
Do you have friends who play Garena games? Isn't it hard looking for them and asking them to accept friend requests one by one? We've added a new feature in Garena Plus: Facebook Connect!
Connect your Garena Plus to Facebook by clicking the Facebook icon above your Buddy List and find all your Facebook friends on Garena Plus. It's fast and easy.
To celebrate the launch of this feature, we're giving away a prize. From now till June 1st at 11:59pm GMT+8, use the Connect to Facebook function and you can claim a free 4-Win IP Boost in League of Legends! It's as easy as 1-2-3! Just follow the steps below:

1. Find the Facebook icon on your latest Garena Plus.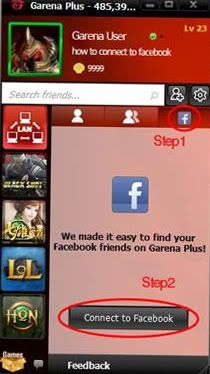 *If you don't have Garena Plus installed yet, you may download it HERE.

2. Click "Connect to Facebook" and follow the instructions to complete the process.

3. Login your account at the Facebook-LoL Redemption site and follow the instructions.

4. Claim and enjoy your 4-Win IP Boost!
Comments