The Legends Circuit - Rise Above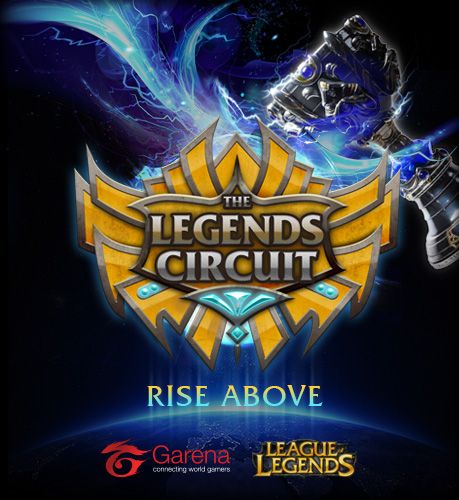 Rise Above

The Legends Circuit is drawing near and the top 8 teams have risen above the rest after a long and arduous month of Ranked Team play. There have been many ups and downs for numerous teams, with unexpected consequences for uncommon reasons, but everything is coming full circle and things are expected to heat up more once TLC starts.

Without further ado, the top 8 teams:

Jakarta Scourge
iSg Exiles
iSg Outlaw
Nova Gaming
AL Evolution SG
Team Infinity
Toukon
Singapore Sentinels

There will be an announcement early next week regarding the start of TLC on 5/5/2013, so mark that date down on your schedules and tune in to watch the livestream brought to you by us!

Prizes

Teams will be playing for the huge prize pool of over USD $20,000, as well as the chance to represent Singapore in the SEA Qualifiers for the Season 3 World Championships!

Schedule

Held from 5 May to 25 August 2013, you can expect nonstop action every Sunday between 2-4pm (GMT+8). Of course, as per any league format, there will be breaks inbetween, namely on 26 May (Riot Allstars!), 7 July (just a post mid-way break), and 18 August - the last break before the TLC Allstars and Playoffs (25 August)!

Important Notes

Each Summoner is only allowed to register in ONE team, and any deviances to the rule will result in immediate disqualification.

Each Ranked Team is only allowed to register SEVEN players (you may have more in your roster, but they will not be allowed to play in TLC) and there will be a chance for you to change up to TWO players once TLC starts, and once more during the mid-way break.

We will post regular updates on the current standings of the teams in the PoL on the forum.
Teams that make it into TLC will be required to turn up for ALL your matches every Sunday. There will be severe penalties for anyone who breaks this rule.

Teams will be required to assist us in all marketing activities related to TLC to the best of their capacities.

We view anything going against the Summoner's Code (such as ELO Boosting and unsportsmanlike behaviour) very seriously and direct and appropriate actions will be taken against offending teams/players.

Team Different Lifestyles was disqualified from TLC with DLS DeMonBoi banned from the tournament. The other players will be allowed to participate through playing as substitutes for other teams if both parties are in agreement.
Comments