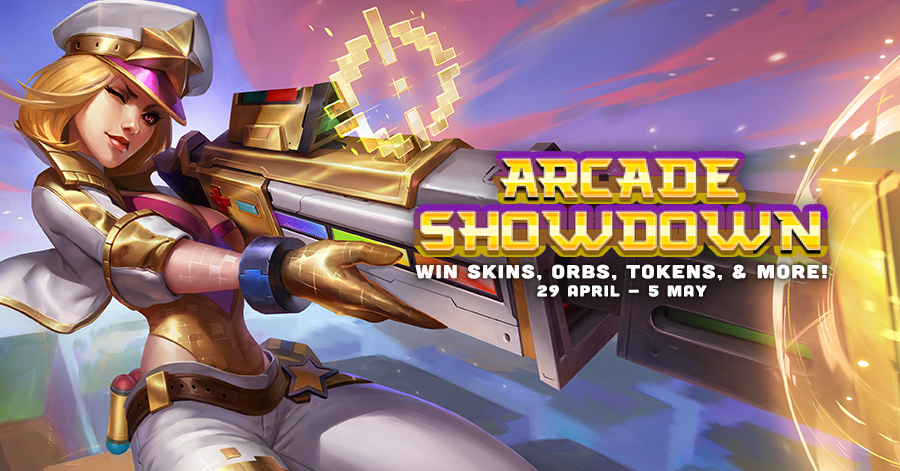 Win Arcade Caitlyn Prestige Edition in our latest event: Arcade Showdown!
EVENT MECHANICS
Spend 49 / 219 RP to draw 1 / 5 prize(s) from the 9 options randomly & gain ★!
‣ Tip: Your first draw is discounted to 39 / 169 RP!
‣ Tip: You can exclude up to 2 prizes that you don't want on the board.
‣ Note: It is possible to draw multiple prizes of the same option when performing a 5 draw!

Each prize corresponds to a random amount of ★ which earns you milestone rewards!
Gather ★ to receive these milestone rewards:
20 ★: Hextech Key
50 ★: Space Groove Orb
100 ★: 2 x Space Groove Orbs
You can click on the reset button to reset your milestone progress.
To view the event, simply click on the ARCADE SHOWDOWN button in the client.
Be quick, as the event ends 11:59 PM, 5 May!
Some commonly asked questions:
Q: What if I do not own the champion for the skin I've chosen?
A: If you do not own the champion for the skin selected, it will be sent together with the skin.
Q: I accidentally bought something I didn't meant to!
A: All items are sent directly to your account and hence the Store's Refund Policy does not apply - please read the event rules carefully before you commit!
For any questions and/or issues encountered in relation to this event, please contact Garena Customer Support.