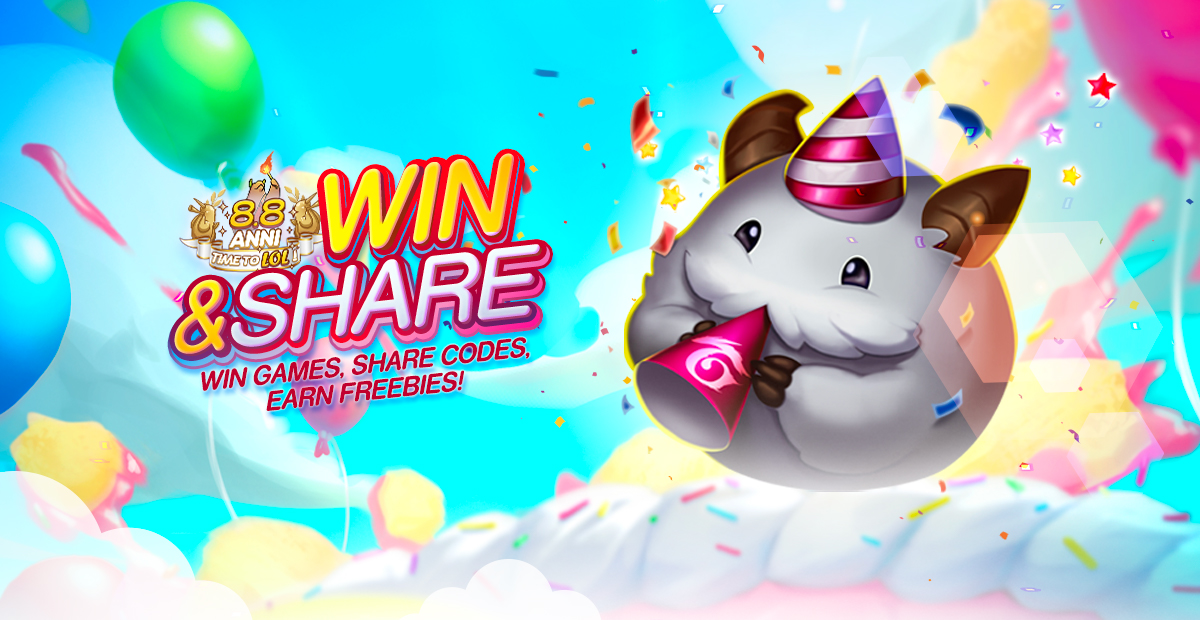 Hey Summoners! Here are some updates to the 8.8 ANNI - MY MILESTONES event!
EVENT PERIOD
26 July ~ 8 August 11:59PM (GMT+8)
WIN & SHARE
1. Win games to earn available invites in order to share your invitation code for your friends to enter!
2. Your friends will NOT be able to enter your invitation code if you have no available invites left.
3. When your friend enters your invitation code successfully, you will earn 5 ~ 20% progress (random) towards your free reward redemption.
4. Accumulate 100% to redeem the reward for free!
BALLOONS
1. Earn 3 balloons for every successful friend invitation code you enter.
2. Redeem balloons for free rewards in the balloons redemption zone!
3. You can only enter up to 100 invitation code max.
WIN STREAK
1. Accumulate win streaks to unlock even more freebies!
2. Redeem free rewards in the streak redemption zone based on your best streak.
LEADERBOARD
1. Climb the leaderboard by getting your friends to use your invites.
2. Be in the top 50 when the event ends to earn a free random Legendary skin!
Important things to note:
ELIGIBLE GAME MODES
Summoner's Rift Blind Pick, Ranked Solo/Duo, Ranked Flex, and ARAM.
WIN & SHARE
1. You must accumulate the full 100% in order to redeem the reward for free.
2. It is NOT an accumulate discount feature - you either purchase at original price or redeem it for free once you accumulate 100% progress.
3. The first reward is always Sentinel Rengar.
4. If you already own Sentinel Rengar - you will receive 5 x Ruined Orbs instead.
5. The next three rewards are Random Epic Skin hextech item.
6. Thereafter it will be only Hextech Chest & Key.
7. There is no limit to how many Hextech Chest & Key reward you can redeem for free as long as you can fill up the progress bar to 100%!<br>
BALLOONS
1. The maximum amount of balloons that you can possibly earn is 300.
2. Do plan out what are the items that you want to redeem as 300 balloons is insufficient to redeem everything.
3. There are limits to how many of each item you can redeem stated clearly within the redemption zone.
LEADERBOARD
1. The top 50 will be based on the leaderboard ranking when the event ends on 8 August 11:59PM GMT+8.
2. Redeems refer to the amount of 100% progress made and free reward redeemed.
3. Please allow up to 7 working days for the reward to be credited manually into your account.
MISCELLANEOUS
1. Random Epic Skin & Random Legendary Skin redeemed from this event are hextech items that can be found in your loot inventory.
2. In the event that you already own all the skins available in the 8.8 anniversary gift - you may select 5 x Ruined Orbs or 5 x Fearless Fellowship Eggs instead.
3. For any issues encountered in relation to this event, please contact Garena customer support.