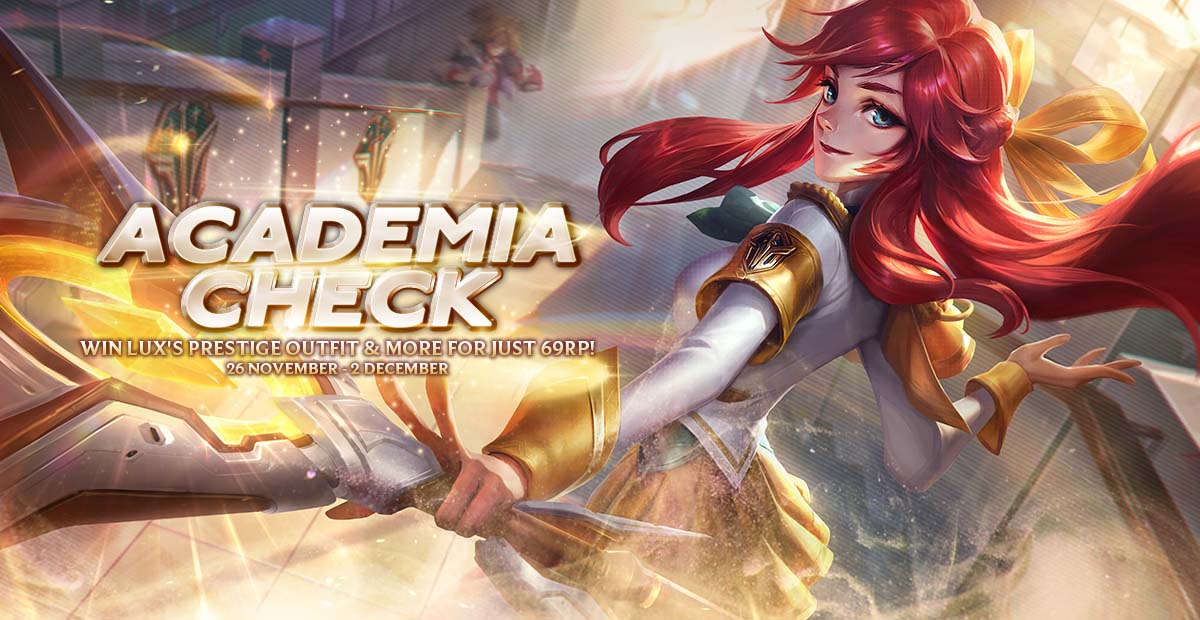 Search for Lux in our new event - Academia Check! Win hextech items, and redeem prizes of your choice in this event!
Event Mechanics
1. Spend 69 RP to find Lux out of the 9 options & receive its corresponding prize.
2. Find the correct option and receive her prestige outfit!
3. The other options contains other prizes instead:
• 3 ~ 10 Gems / Dragonmancer Orb / Hextech Key / 2 x Dragonmancer Orbs / Dragonmancer Eternal Blessing Bag / Dragonmancer Divine Transcendence Pack
4. After an option has been chosen, it will be returned & shuffled back - not removed permanently.
Removal of non top prizes
1. You can spend RP to remove non top prizes, increasing your chance of hunting the top prize!
2. You can remove a maximum of 8 non top prizes - the last remaining one will guaranteed be the top prize.
3. When you remove a non top prize, you do not receive the usual hunting prize - you will receive a removal prize instead.
To view the event, simply click on the ACADEMIA button in the client.
Try your luck in the client from now until 2 December 11:59 PM GMT+8!

For any issues encountered in relation to this event, please contact Garena customer support.