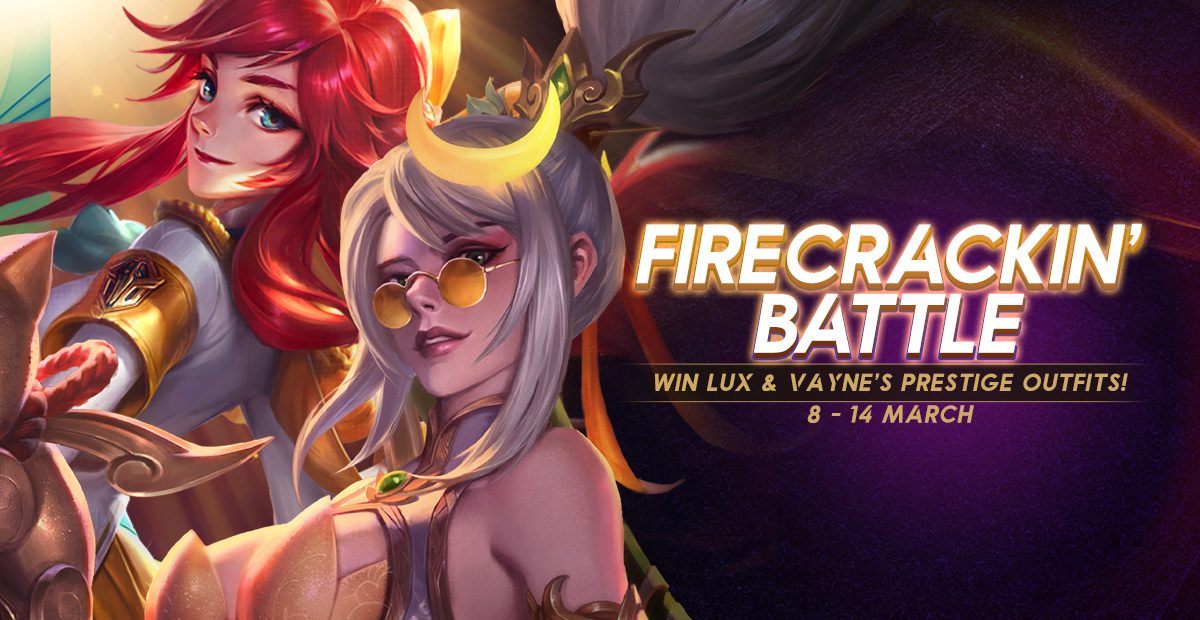 Firecrackin' Battle!
Spin the wheel to win Lux & Vayne's Prestige Outfit!
EVENT PERIOD
8 ~ 14 March 11:59PM GMT+8
EVENT MECHANICS
1. Select 2 prizes to remove from the pool. (Note: Grand Prize cannot be removed.)
2. Click on the DRAW button to start the wheel.
‣ RP Cost: 79, 99, 199, 299, 399, 499, 599, 699, 799 and 899 RP
‣ Grid Rewards: Hextech Key | Hextech Chest | 1 x Hextech Key and Chest | 1 x Fireacrker Orb | 2 x Hextech Key | 2 x Hextech Chest | 1 x Firecracker Grab Bag | Firecracker Exclusive Pack | 1 x Random Epic Skin | 1 x Epic Skin of Choice | 7 x Firecracker Orbs‣ Grand Prize: Battle Academia Lux Prestige Edition | Firecracker Wayne Prestige Edition | 13 x Firecracker Orbs
3. Obtain a FREE RESET whenever you receive all the prizes on the wheel.
4. Alternatively you can use RP to reset it immediately to purchase more items from the wheel!
‣ RP Reset Cost: 36 RP, 54 RP, 72 RP and thereafter.
Note: The order of the jackpot prize is Battle Academia Lux Prestige Edition, followed by Firecracker Vayne Prestige Edition, then lastly 13 x Firecracker Orbs.
To view the event, click on FIRECRACKIN' BATTLE in the client now!
THINGS TO NOTE
1. [Random Epic Skin] is a Hextech crafting item that can be found in your Hextech inventory.
2. If you already have all skins in that category, you will receive Firecracker orbs instead.
3. This event is not applicable with League of Legends' store refund policy so please make sure you understand the event rules before committing!
For any issues encountered in relation to this event, please contact Garena customer support.