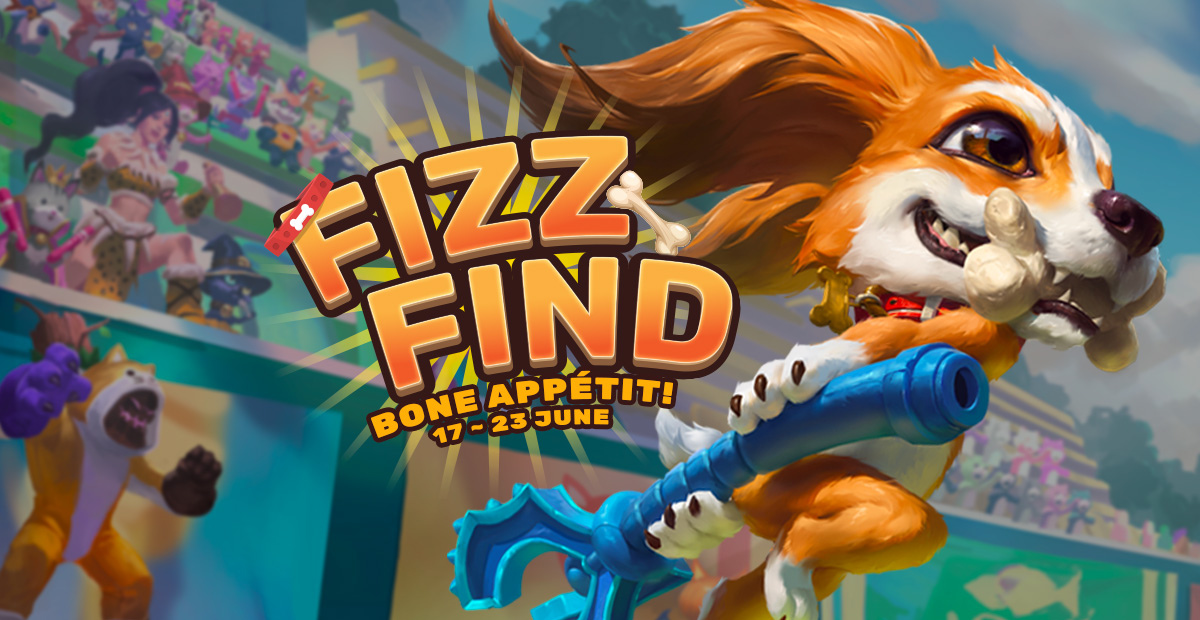 EVENT MECHANICS
1. Spend 99 / 479 RP to draw 1 / 5 prize(s) from the 9 options randomly!
‣ Tip 1: You can exclude up to 2 prizes that you don't want on the board.
‣ Tip 2: Your first 1x / 5x draw is discounted!
‣ Note 1: It is possible to draw multiple prizes of the same option when performing a 5x draw!
‣ Note 2: The prizes on the grid will reset every time you draw (either 1x or 5x draw)
Each prize is tagged to a random amount of treats which earns you milestone rewards!
Gather treats to receive these milestone rewards:
30 treats: 2 x MSI 2022 High Noon Orbs
65 treats: Epic Skin of Choice / 5 x MSI 2022 High Noon Orbs
100 treats: Fuzz Fizz Prestige Edition / 13 x MSI 2022 High Noon Orbs
You can click on the reset button to reset your milestone progress.
To view the event, simply click on the FIZZ FIND button in the client.
Available in the client from now until 23 JUNE 11:59 PM (GMT+8)!
THINGS TO NOTE

All milestone rewards have to be claimed by 23 June 11:59 PM GMT+8. Event page will no longer be accessible thereafter!
In the event that you exceed 100 treats, only a maximum of 45 treats will be carried over.
Fuzz Fizz Prestige skin comes with its corresponding border and champion.
You will receive MSI 2022 High Noon Orbs instead if you already own:
‣ All Superior skins: 4 x MSI 2022 High Noon Orbs
‣ All Epic skins: 5 x MSI 2022 High Noon Orbs
‣ Fuzz Fizz Prestige skin: 13 x MSI 2022 High Noon Orbs
This event is not applicable with League of Legends' store refund policy so please make sure you understand the event rules before committing!

For any issues encountered in relation to this event, please contact Garena customer support.