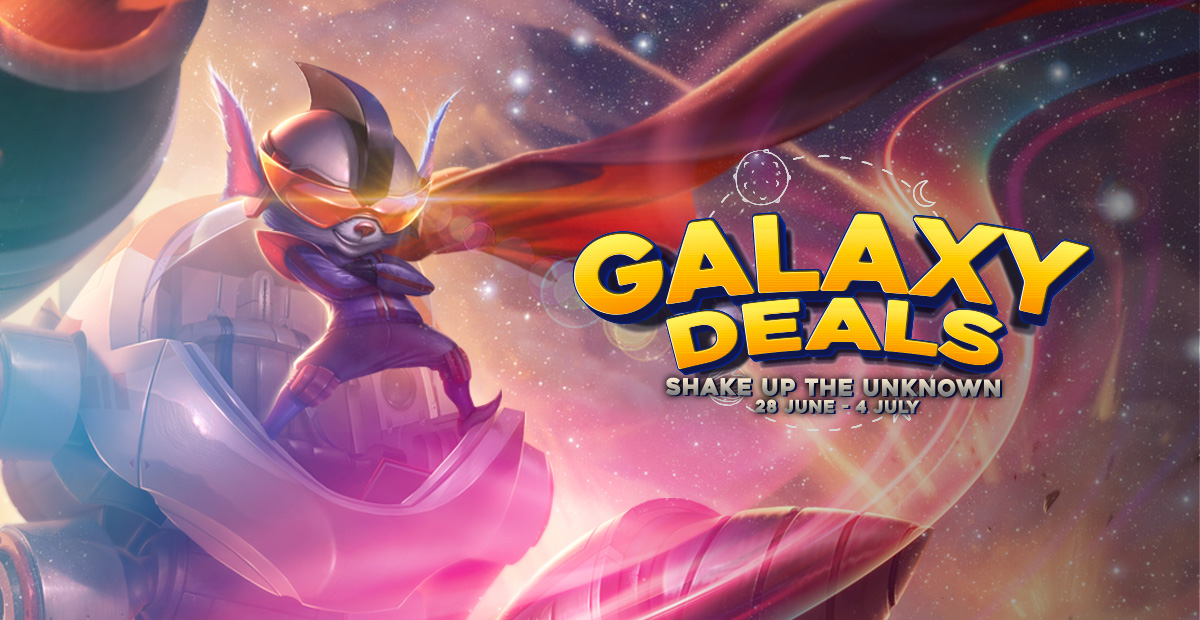 Event Info
1. Unlock new skins at great discounts now!
‣ 1st item: 975 RP skin for 299 RP & unlock the 2nd item.
‣ 2nd item: 1350 RP skin for 699 RP & unlock the 3rd item.
‣ 3rd item: 1820 RP skin for 799 RP!

2. Get bonus rewards with every purchase!
For every purchase, pick 1 bonus reward out of the 3 choices:
‣ 1st item: 1x Masterwork Chest / 1x Hextech Key / 1x Hextech Chest
‣ 2nd item: 1x MSI 2022 High Noon Orb / 2x Hextech Key / 2x Hextech Chest
‣ 3rd item: 2x MSI 2022 High Noon Orbs / 5x Hextech Key / 5x Hextech Chest
To view the event, simply click on the GALAXY DEALS button in the client.
Available in the client from now until 4 JULY 11:59 PM (GMT+8)!
Things to Note
1. Limited, Prestige, Mythical and Legacy skins are not included in this event.
2. All items are sent directly to your account and hence the Store's Refund Policy does not apply - please read the event rules carefully before you commit!
3. You need to select your skin & bonus reward of choice first before you can purchase.
4. If you do not own the champion for the received skin, you'll get it for free! (No compensation if you already own the champion.)
5. Already own all 975/1350/1820 RP skins? You can select these prizes instead:
‣ 975 RP skin: 4x MSI 2022 High Noon Orbs
‣ 1350 RP skin: 5x MSI 2022 High Noon Orbs
‣ 1820 RP skin: 7x MSI 2022 High Noon Orbs
6. This event cannot be refreshed. You only have one chance to grab these skins at a discount!
For any issues encountered in relation to this event, please contact Garena customer support.