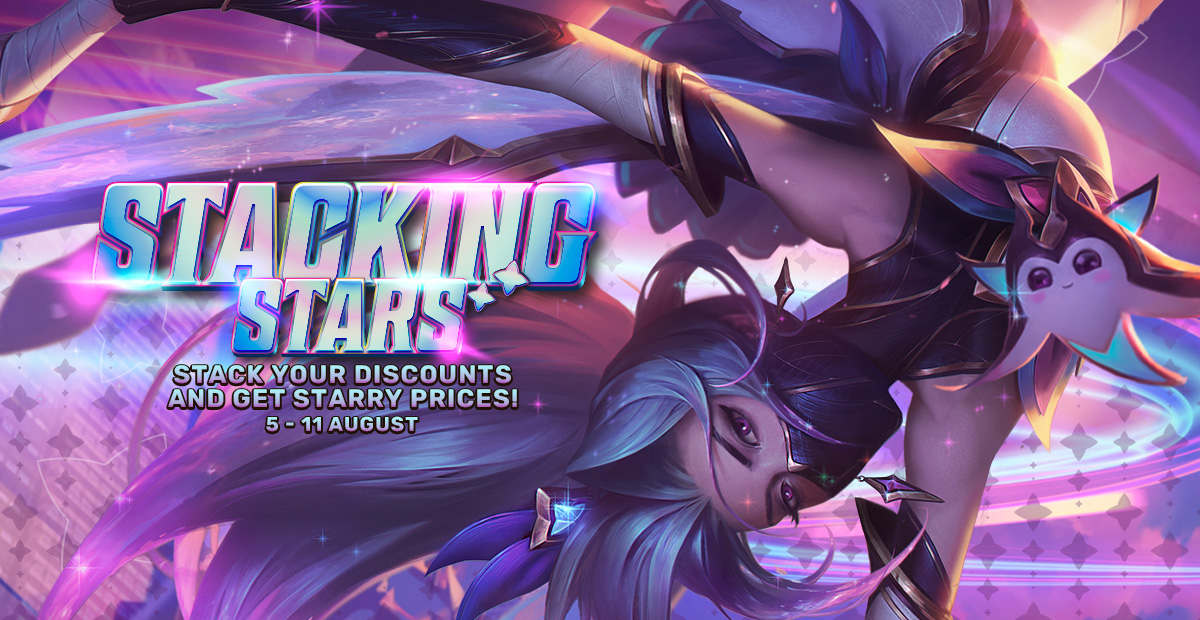 EVENT MECHANICS
1. Stack discounts on skins, and purchase them at ridiculously discounted
prices!


2. The prizes are:
‣ Legendary Skin of Choice
‣ Random 2022 Epic Skin
‣ Random Epic Skin (before 2022)


3. You can stack a maximum of 3 discounts on each skin. The cost to purchase a stack are:
‣ 1st stack: 0 RP
‣ 2nd stack: 49 RP
‣ 3rd stack: 99 RP


4. The following discount options are available at random:
20 RP, 30 RP, 50 RP, 60 RP, 80 RP, 100 RP, 30%, 50% and 80%
‣ Note 1: Each discount option is unique, you will not stack the same discount
option on your items for that round.
‣ Note 2:If you have purchased any skins, you can still stack discounts on the remaining skins that aren't yet bought.
‣ Note 3: The discount stack is sequential.
For e.g., if you got a 100 RP discount followed by an 80% discount on an Epic Skin, the price will be (1350 RP - 100 RP) x 80% Discount = 250 RP.


5. You have a total of 4 purchase rounds. If you have bought 0 / 1 / 2 items,
spend 30 RP / 20 RP / 10 RP to reset all discount stacks and items.
‣ Note 1: The reset will bring you to the next purchase round.
‣ Note 2: You can't reset on your last round.

6. Event will end when you finish the 4th purchase round.
To view the event, simply click on the STACKING STARS button in the client.
Available in the client from now until 11 AUGUST 11:59 PM (GMT+8)!
THINGS TO NOTE
1. Legacy and Limited skins are not included in this event.
2. If you already own all the Legendary/Epic skins, you will receive 7x/5x Star Guardian 2022 Orbs instead.
3. This event is not applicable with League of Legends' store refund policy so please make sure you understand the event rules before committing.
For any issues encountered in relation to this event, please contact Garena customer support.