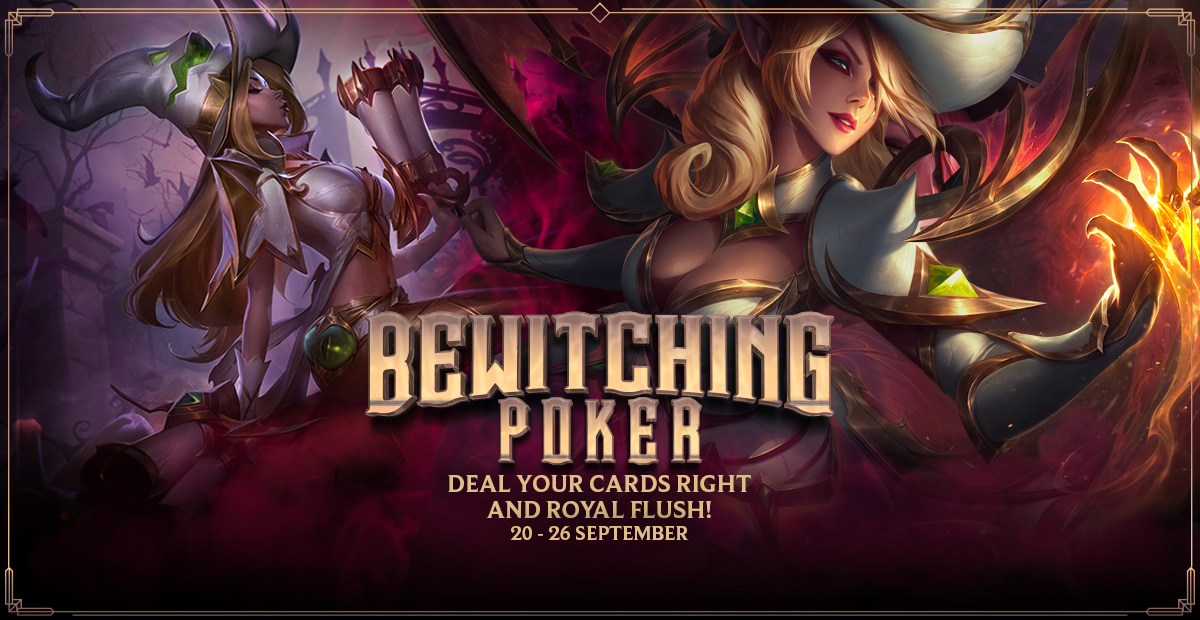 EVENT MECHANICS
1. Select your bonus reward first!
2. Draw a card for 88 RP, then place it on one of the 6 positions to receive its respective prize.
3. There are 6 types of prizes:
▶ 1 x Hextech Key
▶ 1 x Hextech Chest
▶ 75 x Steel Valkyries 2022 Tokens
▶ 50 x Steel Valkyries 2022 Tokens
▶ Steel Valkyries 2022 Orb
▶ Steel Valkyries 2022 Bag

4. You will be given only one or two position options to place your card each turn.
5. You will receive your bonus reward that you have selected in the first step when a card is placed on all 6 positions.
6. Thereafter, the cards will be refreshed, positions will be reshuffled. You can then reselect your next bonus reward of choice.
7. Receive milestone rewards when you keep drawing!
8. Once you receive the final milestone reward, the counter will reset.
Milestone rewards:
▶ 10: Steel Valkyries 2022 Orb
▶ 20: 3 x Steel Valkyries 2022 Orbs
▶ 40: Bewitching Morgana / Miss Fortune Prestige Skin
9. There is a small chance to encounter 「Luck of the Draw」when drawing!
To view the event, simply click on the BEWITCHING POKER button in the client.
Available in the client from now until 26 SEPTEMBER 11:59 PM (GMT+8)!
THINGS TO NOTE
1. Limited, Mythical and Legacy skins are not included.
2. Only Bewitching Morgana Prestige skin comes with an icon. Bewitching Miss Fortune Prestige skin does not come with an icon.
3. Please select 13x Steel Valkyries Orbs if you already own the Prestige skins.
4. Prizes are sent directly to your account, therefore the Store Refund Policy is not applicable - please read event mechanics carefully before committing!
For any issues encountered in relation to this event, please contact Garena Customer Support