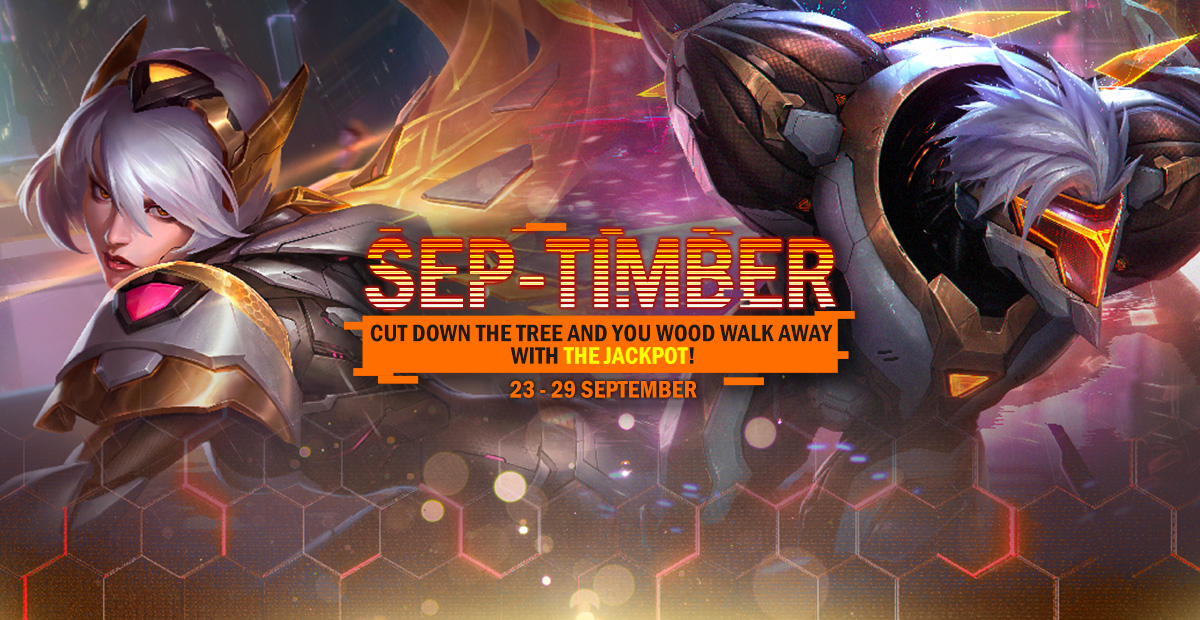 EVENT MECHANICS
1. Make a draw to chop the tree!
2. There is a total of 15 layers. Each layer has a different random prize pool.
3. The draw prices are as follows: 99,99,99,99,99,109,109,109,119,119, 129,129,129,139,139
4. Receive discounts for your first 15 layers for each 5x Draw.
[1st 5x Draw: 30% Discount, 2nd 5x Draw: 20% Discount, 3rd 5x Draw: 10% Discount]
5. You can choose to either claim the prize or convert the prizes to tokens at 80% of the prize value.
NOTE: Prizes received on Layer 5 / 10 / 15 cannot be exchanged for Tokens.
6. Click the "SHOP" button to spend your tokens.
7. Once you have finished drawing all 15 layers, the round will be refreshed.
8. There is a small chance to win the Final Prize with each draw!
To view the event, simply click on the SEP-TIMBER button in the client.
Available in the client from now until 29 SEPTEMBER 11:59 PM (GMT+8)!

THINGS TO NOTE
1. The Epic Skins in SHOP will not include the Fright Night Skin Series. Fright Night Skin Series will ONLY be included on the 15th layer Epic Skin of Choice.
2. ONLY your first round will be entitled to discounts.
3. Legacy and Limited skins are not included in this event.
4. This event is not applicable with League of Legends' store refund policy so please make sure you understand the event rules before committing!
​
For any issues encountered in relation to this event, please contact Garena customer support.