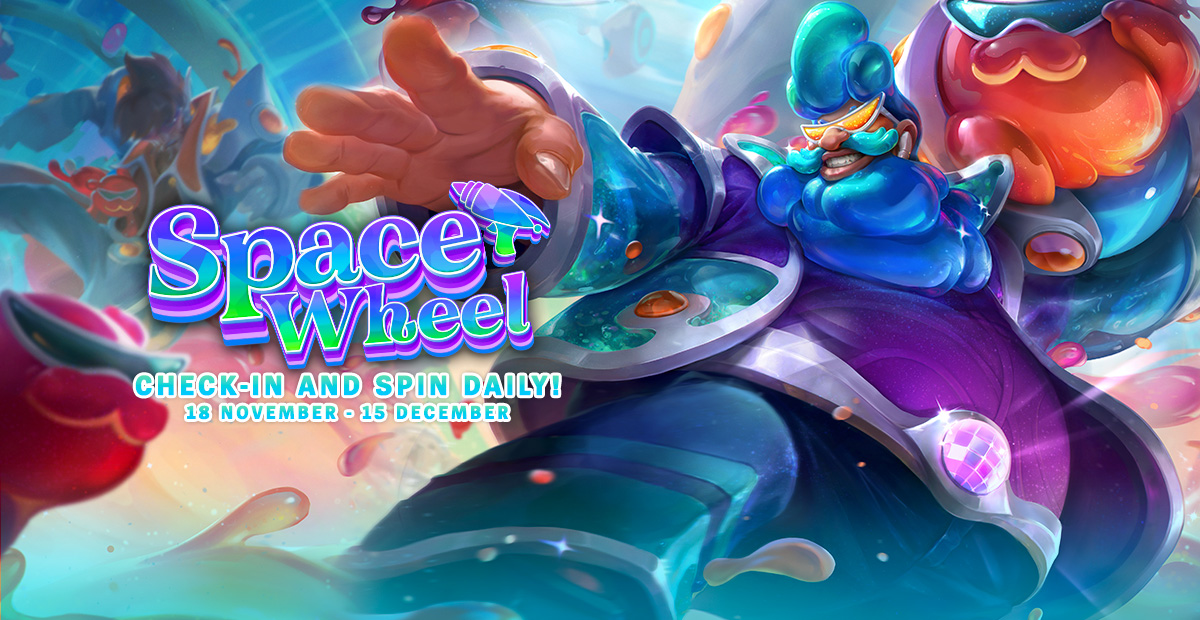 EVENT PERIOD
Week 1: 18 ~ 24 Nov 2359hrs
Week 2: 25 Nov ~ 1 Dec 2359hrs
Week 3: 2 ~ 8 Dec 2359hrs
Week 4: 9 ~ 15 Dec 2359hrs
Note: Event will no longer be accessible after 15 Dec 2359hrs!
EVENT MECHANICS
1. Log in daily to check-in and get a free spin!
2. Spin the free wheel (left) for freebies, such as a Random Epic Skin!
Note: You can't receive the same reward again after getting it.
3. You can use RP to spin the premium wheel (right) for even better rewards, such as the Space Groove 2022 Grab Bag!
Note: The amount of times that you can spin this wheel is tied to the free wheel (left).
4. You can use RP to reset the rewards that you have already received from the premium wheel (right) if you want to.
5. Missed a check-in day? Win games to earn retro check-ins!
NOTE: The Retro only applies to the corresponding time period e.g. if you win on 5th Dec, you can only obtain Retro for the Week 3, 2 ~ 8 Dec period


THINGS TO NOTE
1. The RP cost to spin the premium wheel are as such: 70, 125, 200, 250, 350, 500 RP.
2. You can only earn retro check-ins from these game modes: ARAM, Blind Pick, Ranked Solo/Duo and Ranked Flex.
3. The RP cost to reset the premium wheel (right) is 100 RP.
4. This event is set in the GMT+8 time zone.
5. NOTE: The tokens will be replaced with other rewards on 21 Nov 1200hrs (GMT+8).
6. This event is not applicable with League of Legends' store refund policy so please make sure you understand the event rules before committing.

For any issues encountered in relation to this event, please contact Garena customer support.